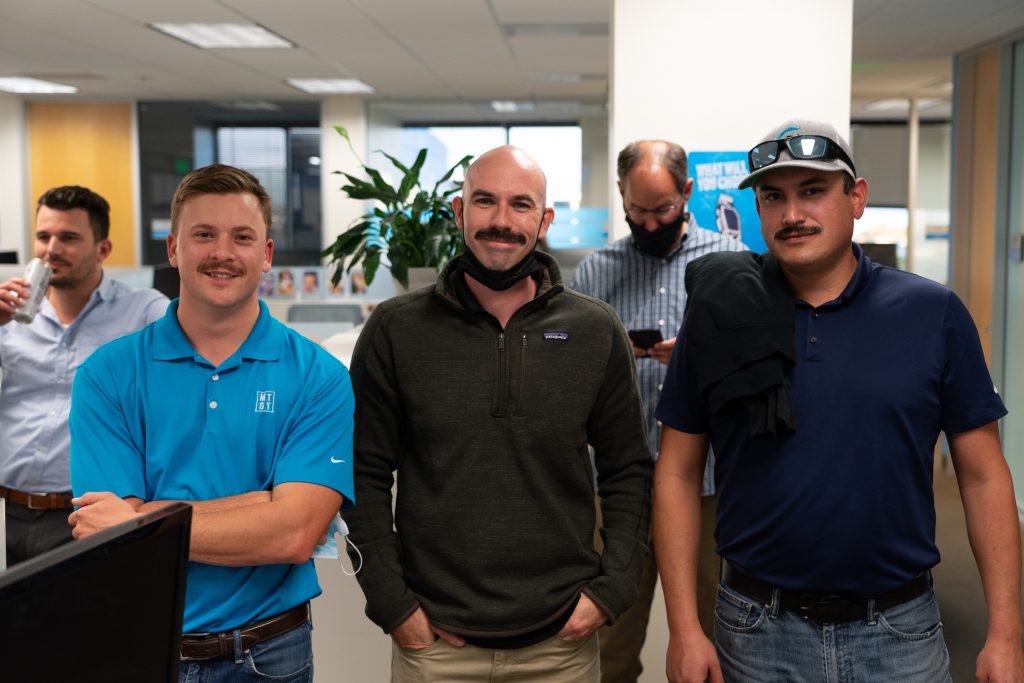 Uncategorized
Truebeck a Top Ten Donor Nationally for Movember
December 2, 2021
"It's exciting to be live, to see so many faces out there and so many mustaches," Todd Ahern said as he kicked off Truebeck's 8th annual Movember event.
"They look great," Nick Pera added as he and Todd looked out at those in attendance. In the crowd, nearly all the men had mustaches trimmed and cut into different styles.
Each year, Truebeck Construction participates in Movember. A play on the name November, it's a month where men grow mustaches to raise awareness around men's health and fundraise to support research and services on that front. Specifically, the Movember Foundation focuses on testicular and prostate cancer, mental health, and suicide prevention. The non-profit got its start when a group of men in Australia attempted to bring back the mustache as a fashion statement. Now, Movember is one of the largest international organizations supporting men's health.
But growing mustaches and raising money is only a scratch on the surface for what Truebeck does over the course of the month. From the first of the month to the last, the team engages in contests, giveaways, and a teamwide event to celebrate. The theme for 2021 was "Raise the Barbershop," a play on the company's motto, "Raise the Bar."
In previous years, Truebeck did themes like the Moscars and mustaches in sports. At this year's celebration event, the team hauled barber shop chairs into the main office and even brought in a local stylist to give shaves during the live event.
"It started initially as a way for us to honor all the fathers, sons, husbands, uncles, brothers, and nephews, all the men in our life that unfortunately somewhere along the way may be impacted by anything from prostate cancer and testicular cancer to unhealthy lifestyles and poor mental health," said Ahern.
This year, Truebeck's team raised $38,980! This put Truebeck Construction as the tenth highest team nationally for fundraising as well as the highest donor from the construction industry. "It's another great year, we've blown out our target. There is no stopping Truebeck," said Ahern.
But among the Truebeck team there was a special group that were the largest contributors to this year's success. A team comprised of six women called "The Hair Naked Ladies of Truebeck." On this team were Brynda Olson, Betsy Bice, Jessica Mills, Kelley Wathen, Christine Zinkgraf, and Kalie Ward. These women raised over 50 percent of the total amount with $20,040. They were also ranked sixteenth on Movmeber's Individual Leaderboard and broke Truebeck's internal record for most money raised within the team. "It was fun to come together with this group of women to join the cause and raise awareness and money for Movember," said Bice.
As to how the team formed, Ward shared, "Brynda came up with the idea and we all jumped on board at the chance to band together. I think that the team aspect really led to our fundraising success as many of those who donated wanted to contribute to multiple members of the team or just liked the idea of the Hair Naked Ladies. Our goal is to try to motivate other potential teams to do the same."
While interviewing two representatives of the Hair Naked Ladies—Olson and Wathen—Pera asked, "How did you get all those funds? Because that's absolutely amazing, no one at Truebeck has done what you have done."
"Our tips on how to raise the most money for this are if you drop the word 'naked' in an email, you get a lot more attention," Wathen said as the crowd laughed.
As for why Wathen chose to personally participate, she said, "Men's health affects all of us, and we wanted to do our part to contribute!"
"This was for a great cause to raise funds and bring awareness to something that affects us all," said Olson.
"Participating in a mustache competition was not on my radar… for obvious reasons," said Zinkgraf. "But when this team came together we felt confident the blue ribbon could be ours. The real winners are the men in our lives, and I am thrilled that our donations will help bring awareness to men's mental health which has been stigmatized for too long."
As an industry with a strong male workforce, there is a vested interest for the construction industry and general contractors like Truebeck Construction to support causes like Movember. "Team Truebeck continues to be a leader for the betterment of men's health and it amazes me every year to see the team's enthusiasm for this event," said Ahern. "Even more incredible is how team members yearly outreach continues to Raise the Bar in support of the Movember Foundation. The Hair Naked Ladies threw down a massive gauntlet this year and I for one can't wait to see who will rise to the challenge in 2022."